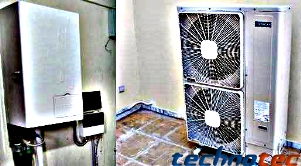 These sophisticated devices completely replace conventional heating systems (e.g. boilers, oil, gas, electric, etc.). Their key innovative characteristic is the generation of summer cooling that eliminates intensive air conditioning units. Exploiting the energy offered by the environment, heat pumps work heating and cooling room (residence rooms, working rooms, industrial spaces etc).
Heat pumps can be effectively combined with systems that are specially designed to function in low temperatures such as underfloor heating, fan coils etc. When combined with conventional type of radiators such as panels or slices, the radiators should be over-dimensioned to operate at lower temperatures.
Nevertheless, there are heat pumps of high temperatures that may be combined with existing radiators without being over-dimensioned.
In the case of cooling, the heat pump can be combined with underfloor heating and air conditioning units (fan coils) but not with radiators (panels, slices), cause this could create condensations on the surface of radiators.
Heat pump DC inverter

Heat pumps Yutaki, for heating, for heating-cooling and high temperature heat pumps