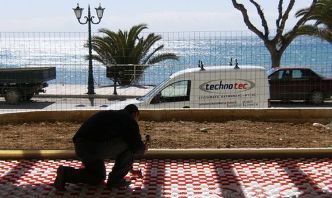 Underfloor heating-cooling systems ensure significant energy savings and uniform distribution of heat and cool throughout your house, exempting all the rooms from the anti-esthetical radiators or air condition units.
Underfloor heating is an innovation in heating applications. This technique firstly appeared in ancient times, when firewood was the basic fuel and air was the transmission medium flowing in underground channels. Over the last thirty years, underfloor heating re-emerged with advanced techniques, applications and the wide use of plastic pipes.
The underfloor heating function is based on the adduction of low temperature hot water at 30-45oC in encased pipes in the floor. The hot water transfers heat to the surrounding concrete and then the floor radiates heat. In this way the heat is uniformly distributed, achieving ideal conditions of wellness and warmth combined with lower operating costs.
Underfloor heating and cooling systems are significantly more economical and efficient. Unlike the radiators that heat the space above and the air conditioning units that heat the entire room space, these new systems heat or cool rooms uniformly.
Technotec guarantees:
An accomplished underfloor heating and cooling installation, which provides you operational safety, space economy, hygienic conditions and high quality materials.
Underfloor systems

The last 15 years underfloor heating has won a significant rate on buildings' new heating systems in Greece...

Underfloor projects

Indicative projects of Technotec ... Trust the specialists in underfloor heating.